Purpose of the Wichita Area Real Estate Market Report -

The purpose of this report is to provide home buyers and sellers the information necessary to make informed decisions when making the large financial decision that is buying or selling a home. I hope the residents of Wichita, Kansas and the surrounding area will find the information valuable and I welcome any questions or comments.



Housing Inventory Movement:

The housing inventory movement metrics describe the current availability of and recent buyer activity. These metrics can also help to predict future market conditions. It is important for both homebuyers and sellers to understand the supply and demand for their market in order to make informed decisions.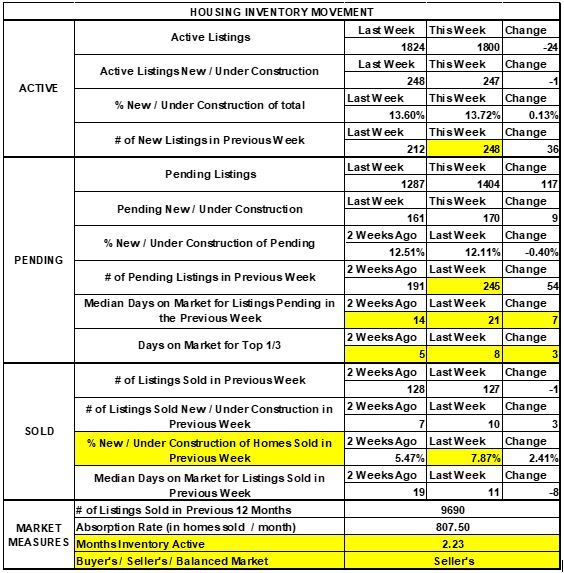 Analysis of Housing Inventory Movement:

Wichita is clearly in a Seller's market with there being only 2.23 months' worth of inventory on the market. There has been a slight drop in available inventory on the market of 24 houses, even with the incoming listings (248) and pending listings (245) leveling off. It also appears that the market movement has started to balance out with the median days on market for properties once again increasing to 21 days, and the top third going under contract in eight days.
Hopefully,
this keeps up allowing buyers a little more breathing room when it comes to making a decision on an offer.


New home sales at 7.87% still well below the average, this is above the national average of 10% (as reported by the
National Association of Home Builders
).



Housing Inventory Pricing:

The housing inventory pricing metrics describe the current trends for listing vs selling price, as well as the changes in current values when compared to the previous year. Net sold price is the price a home sells for after accounting for seller credits, this is used instead of sold price because this is a better indicator of market value. These metrics are important for home buyers and sellers to understand so they understand how home pricing affects offers and sale prices.



Housing Inventory Pricing Analysis:

The average home is selling just below 97% of asking price, with an increase in net sold to asking ratio for both homes below and above the median days on market. As we enter the buying season it seems increased competition has resulted in greater profits for home sales throughout the marketplace. New homes sales are particularly high since they sell, on average, for more than the price they are listed at. There is still, however, loss in value when comparing average below and above median days on market net sold to asking ratio; this value when calculated using average net sold price is $6,332!!! This highlights the importance of proper pricing when you first put the home on the market.


Appreciation for this past week, when compared to the last week, has dropped significantly, dropping from 10% to 5.48%. This is not due to a dropping of current values but rather to a sharp increase in values that occurred this time last year where there was likely more buyers and around equivalent inventory levels.


If you or someone you know are interested in getting this weekly report
contact me here
to get added to the mailing list.


*Note: The above metrics were compiled using data provided by the Realtors of South Central Kansas Multiple Listing Service. The data was aggregated from homes listed using the MLS within 30 miles of Wichita (see map below). The data was collected by the author (local Wichita Real Estate Agent - Jared Viernes) on the date the blog post was published. There are many submarkets within Wichita and the surrounding area which may be very different from the averages/medians discussed here. This is meant as an analysis of the overall Wichita area real estate market, not a specific neighborhood.